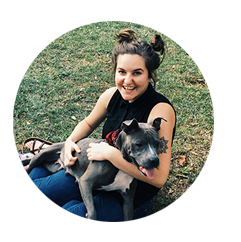 Who, little ol' me? I'm Carly; an over-eager, art dork who happens to be a freelance graphic designer + illustrator. But mostly I'm a 25 year old kid who just can't seem to stop making things, no matter how much life tells me to put my grown-up pantsuit on and pursue a retirement plan. I currently reside in Tallahassee, FL where I attended FSU and earned a BA in Studio Art with a focus in Digital Media and Printmaking. I came for the art and stayed for the pizza. Really, Tallahassee has the best pizza.
So welcome to my little corner of the Internet!
Here you'll find a variety of work I did for clients, as passion projects, and at my job as a tshirt designer. I also have an Etsy Store;
It's Not That Weird
is a small online shop that holds the regurgitation of my playfully twisted mind in the form of prints, stickers, and other hand made goodies. It's sometimes dark, mostly sarcastic, and always questionable.
I'm inspired by the quirks in people's personalities, all things organically gooey, existential crises, and the swishing sound of a windbreaker in a quite waiting room.
When I'm not creating things or ogling over cool art, you can usually find me outside trekking around with my partner and our pups. If you're really intersted in my day to day life, I took a second long video every day for the last three years.
Check those out here:
Year 1
|
Year 2 
|
Year 3
So, thanks for comin'! Now please stay forever and be my best friend. Pizza?
S K I L L S
I'm constantly expanding on my trade and love excuses to learn new technologies but here are the things I am currently proficient at:
Adobe Creative Suite
Illustration
Brand Identity Design
Logo Design
Screen Printing
Letterpress Printing
Web Design
L E T ' S   M A K E   S T U F F
I went freelance so I could work on some dope projects with passionate people. Here are a few things I'm dying to be apart of:
Murals
Beer Labels
Album Cover
Board Game Design
Book Illustration + design
Editorial Illustration
Packaging Design
Coffee Label